In the increasingly competitive market of today, it is not enough for you to only have great abilities/products, you need to be able to market them. Marketing has become an integral part that can make or break your business. However, creating a suitable marketing strategy for your company is easier said than done.
It's a good idea to look at some examples of great marketing strategies so that you can draw some inspiration to create that perfect strategy that will work for your company.
Keep on reading to find out 20 brilliant examples of great marketing ideas for you to draw inspiration from.
1. Cadbury 5 star's Fool-Proof Plan to Escape Valentine's Day
Here is a unique marketing technique that Cadbury 5 star adopted. While everyone is busy with their loved ones on Valentine's Day, there are some of us not who are not cut out for that cheesy romance. Or maybe some of us haven't found that perfect person in our lives.
This campaign targeted the latter category of people. Instead of having to listen to that "What are your plans for today?" you can spend your time on an island in absolute silence. Yes, you read that right! They actually rented a whole island and named it "My cousin's wedding". And now you can reply to the question with I'm going to my cousin's wedding. What's more? They have taken a humorous approach to things like making a visa office and having the people sign an agreement that states absolutely nonsense! You can do absolutely nothing for the whole day and eat an unlimited supply of 5-star chocolates. You would be amazed to know that their brand slogan is "Eat 5 stars and do nothing" and it's working!
How is this outlandish idea working though? The answer is in your question, "It is outlandish!". People crave to try new things. They are bored with their monotonous lives. So, when this island pops up in your feed, there would be very few who wouldn't want to try it out.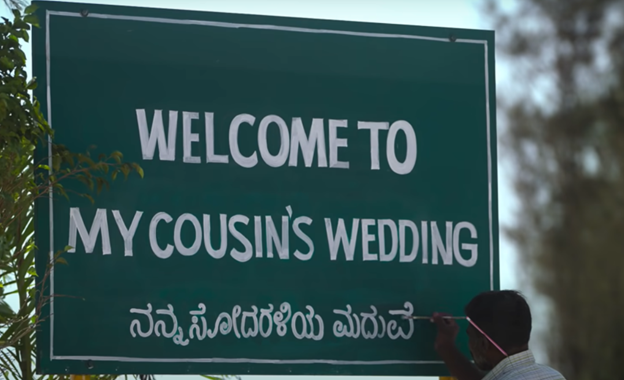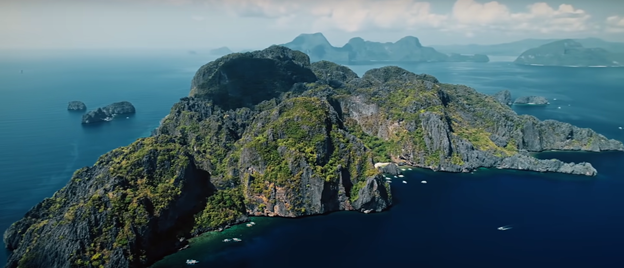 2. Apple's "Get a Mac" Campaign
Everyone born before the 2000s would know how irritating computer viruses were. Using a computer without any viruses would sound tempting in those days. This campaign addressed that issue. When Microsoft was dominating the computer market in the 2000s, Apple launched an ad in which a person who identifies himself as a PC and appears to be sick with viruses and complains about the viruses that are going around. Another guy who identifies himself as Mac seems perfectly fine and goes on to say how he is not affected by the viruses.
How did this campaign work? It addressed the pressing issue of computer users in those days and did it in a simple and understandable way.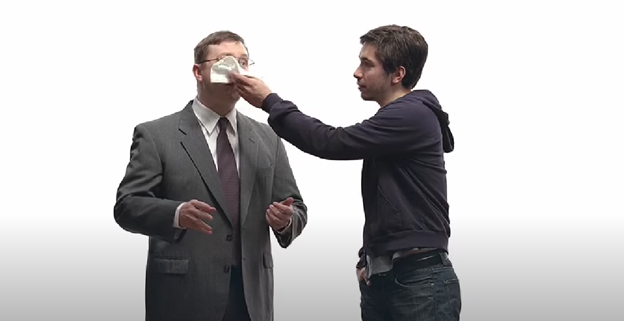 Here is the link to the full YouTube video.
3. Coca-Cola's 'Share a Coke' Campaign:
Coca-Cola took the approach of personalizing its products through the 'Share a Coke' campaign. They branded their coke bottle by replacing their brand name with a number of common names. The customers started connecting more with the product and the campaign was highly successful. A person who would buy a coke for only themselves started buying them for their close ones as a way to remember them. This personalized coke bottle with its name on it was a perfect fit for that job.
Why was this successful? It brought personalization to the product and people started buying them for their friends/family as a way to remember them.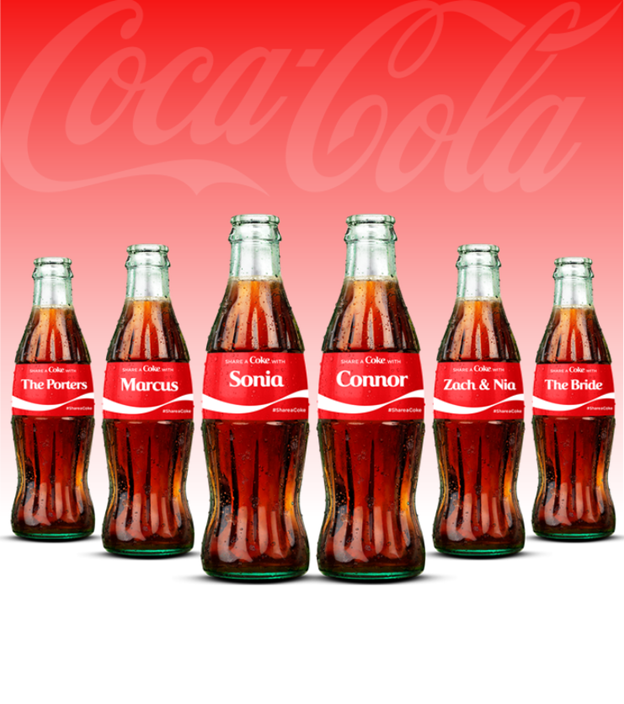 Source: https://us.coca-cola.com/store/personalized-bottle-six-pack
4. The Whopper Detour from Burger King
Burger King is not a new name when it comes to creative marketing strategies. This one particularly was an eye-opener. In this campaign, everyone within 600ft of Burger King's competitor McDonald's, received an offer from the Burger King app for a whopper (a very big burger) for just one cent from the nearest Burger King. Now, who would want a burger in McDonald's when Burger King was providing a whopper for a cent?
It made headlines in news outlets like CNN and the New York Times. The app reached a whopping 1 million downloads in 9 days and was top trending in both IOS and android.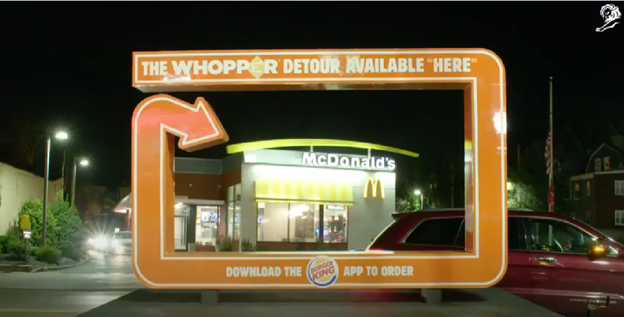 Source:https://youtu.be/Tea-M817hJY
5. Red Bull's Stratos Campaign
Red Bull is the brand that comes to many people's minds when they think of energy drinks. Red Bull sponsors a lot of stunts. This campaign featured a guy named Felix Baumgartner who was launched from the stratosphere to the edge of space over New Mexico, from where he made a record-breaking jump. He became the first human to break the sound barrier without vehicular power. This news was broadcasted all over the world and became a hot topic of that time. It also became the most live-streamed event at that time.
Why did this work? In the era of science and technology, this record-breaking attempt was a milestone for humanity. This content was intriguing to the viewers and as a result, it was successful in marketing the company all over the world.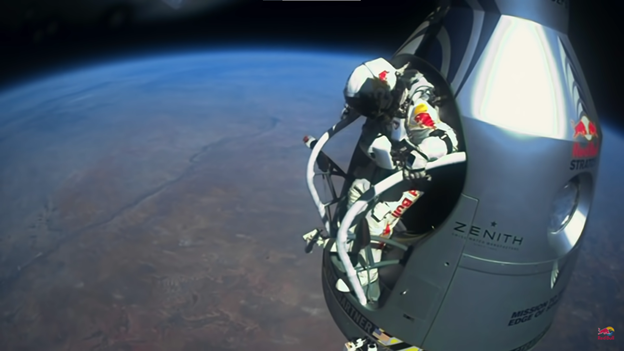 Source: https://youtu.be/FHtvDA0W34I
6. Nike's "Unlimited Stadium" Campaign
Nike made a Nike's Unlimited Stadium, a giant reimagined running track taking over a whole city block in the center of Manila. It is a stadium made of a running track lined with LED screens. Runners in the stadium could have a virtual race against avatars of themselves. This was a great move by Nike to create a buzz in Asia about the brand.
This idea worked because of its flashiness. They made a never-seen-before stadium in a tourist hotspot like Manila. This move definitely helped their goal of creating a buzz for their brand in Asia.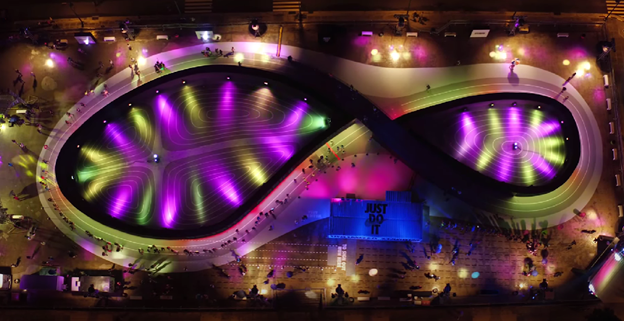 Source: https://youtu.be/JN7lClrTUpE
7. BlendTec's "Will It Blend?"
BlendTec is a company that sells blenders and "Will it blend?" is a show which features Tom Dickson, BlendTec's founder. This campaign firstly started by uploading a video on YouTube which got good reactions from the audience and it turned into a show. In this show, Tom uses the BlendTec line of blenders to blend various items like diamonds, lighters, markers, phones, and car keys. This kind of unique format was entertaining for the viewers. People started making memes and everyone was interested in the show. As expected, Blendtec reported that its sales were skyrocketing and it also started selling 'Will it Blend?' merchandise. What's more? They didn't need to invest much in their ad campaign. If anything, they could generate revenue from the show. It turned out to be a perfect idea for marketing.
Nobody knew if a blender could blend an Ipad or an iPhone or any other "non-blending" materials. This curiosity and the sheer uniqueness led to viewer engagement and ultimately benefitted the company.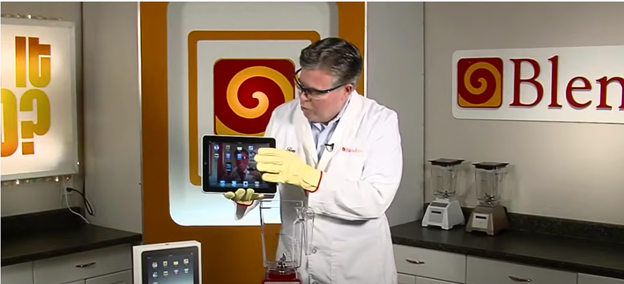 Source: https://youtu.be/lAl28d6tbko
8. KitKat's Guerilla Marketing Campaign in the Philippines
KitKat placed 500 specially designed benches in different cities of the Philippines. They designed the benches to look like the famous wafer bar of KitKat. The benches were built around their slogan "Have a Break, Have a KitKat". These benches were also strategically placed in the busiest districts. The benches were unique. There was a see-saw bench, benches equipped with Guitar and Piano keys, an inflatable bench, and other creative benches. This created hype in social media generating millions of views on YouTube and Facebook.
These creative benches grabbed the attention of the public, created gossip on the digital platforms, and obviously proved to be of huge success.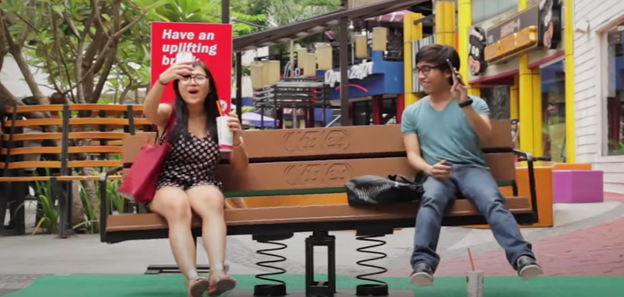 Source: https://youtu.be/ZeycRaVIDtI
9. Domino's Points for Pies
Domino's used a clever marketing trick using technology. They targeted the time when the super bowl was near and launched a campaign. In this campaign, everyone who scanned a pizza would be given points in the Domino's app. Once the points were enough, the user could redeem a medium size pizza for absolutely free (only once a week). To make sure that the customers really want to participate in this campaign, they had these offers for a limited time only and no one would want to miss out on an opportunity to get a free pizza. This introduced new customers to the Domino's app and helped to build a strong community for Domino's.
Further, the images captured by customers were tracked with an AI camera to recognize if its fake or real. The data collected here was also of enormous benefit, so much so that the company was willing to give free pizzas.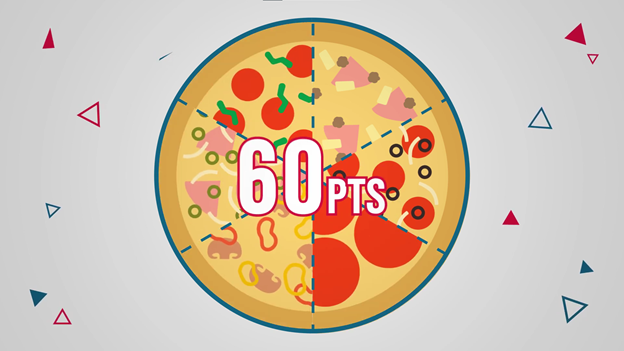 Source: https://youtu.be/WBJC3QDqgmc
10. GoPro Leveraging User Generated Content (UGC)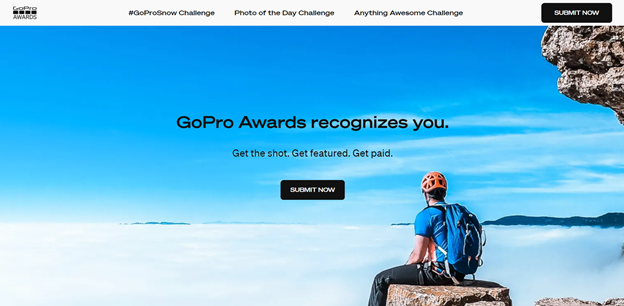 Source: https://gopro.com/en/us/awards
GoPro cameras are used all around the world. It is especially used by adrenaline junkies to record their adventures and stunts. However, GoPro isn't just a camera-selling company, it sells a lifestyle.
Their video editing programs append the logo of GoPro and branding elements. Then GoPro shares them on social media platforms which in turn encourages other junkies to record their own GoPro videos.
Also, GoPro used a clever tactic to fuel brand loyalty, they introduced the GoPro Awards in which they offer prizes – gear, and cash to top content creators. The top content creators are also featured on their social media handles which helps them get exposure in the huge community of GoPro. This keeps the content flowing for GoPro to leverage.
11. Old Spice's ' The Man Your Man Could Smell Like '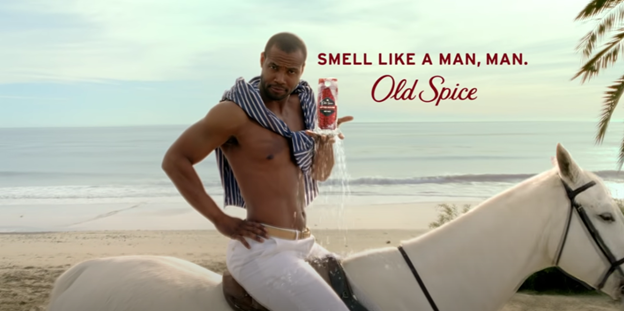 Source: https://youtu.be/owGykVbfgUE
This one is considered gold in terms of marketing strategy. When body washes for men was not a thing, Old Spice started an ad starring former NFL player Isaiah Mustafa.
The ruggedly handsome man is shown to be convincing females to buy Old Spice body wash for their men so that they could be just like him. Why women? It was because 70% of the male toiletry products were purchased by women.
After creating a buzz with the ad, they started "The Response Campaign" in which customers could ask questions to the Old Spice Man. The tweets of selected people were humorously replied to personally by the NFL player. These humorous videos and tweets intrigued their target audience of 18-34 years and everyone was interested to know what Old Spice was about.
As a result, Old Spice had a record number of sales that year.
12. Frito-Lay "Do Us a Flavor" Contest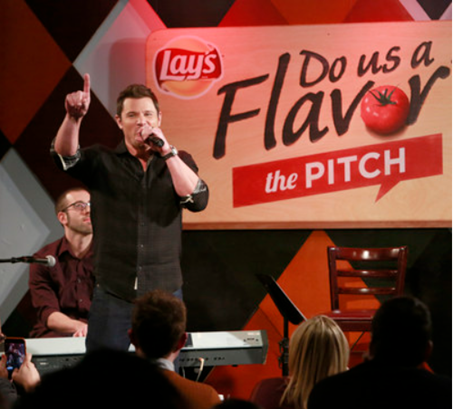 Source: fritolay.com
Frito-Lay is one of the verticals of Pepsico which consists of products like Lays, Dorito's, and Cheetos. They conduct a contest called the "Do Us a Flavor" contest in which people are asked to submit the flavors they would like to see in a Frito-Lay product. The flavors would be narrowed down to 3 flavors with the help of a panel of judges. These flavors were supplied to the stores and a voting system was opened to decide the top flavor among those three flavors. The creator of the top flavor was awarded a cash prize.
This campaign made the customers feel valued as the company listened to their opinions. On the other hand, the company got valuable customer insights.
13. IKEA's Place App
Another successful campaign by making use of technology. The business giant which sells furniture and home accessories used augmented reality (AR) to create an app called the IKEA Place app which allows the user to not only give users access to the company's inventory but allowed users to actually view how the products would look in their houses. This made it convenient for the customers to shop at Ikea and choose products from the comfort of their houses.
Not having to go to the store physically and having to figure out what size furniture would fit for their house is a convenient feature that attracts a lot of customers to shop at IKEA.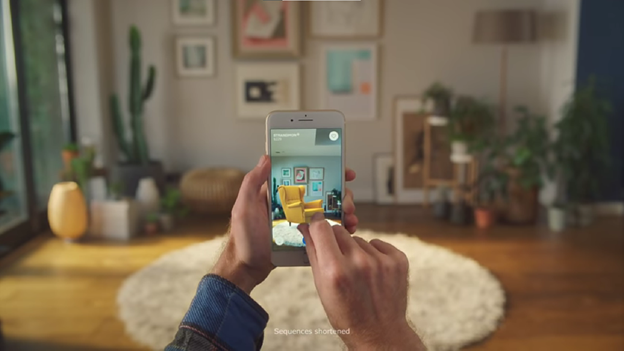 Source: https://youtu.be/r0ViFTEb8aQ
14. Airbnb Subsidizing lodging to COVID19 responders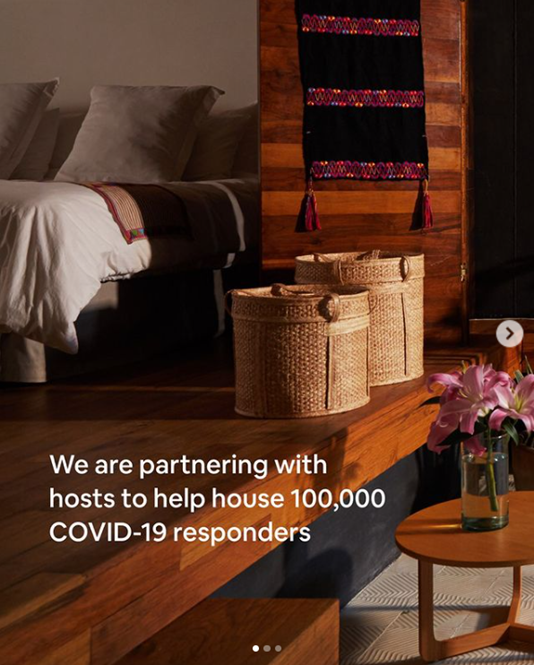 Source: https://www.instagram.com/p/B-Mvq9uCdK1/?utm_source=ig_web_copy_link
Due to the outbreak of the deadly coronavirus, hotel and hospitability businesses like Airbnb have been hugely affected. So, did they just shut down their business? No. They used this opportunity to provide subsidized lodging to the COVID19 responders.
This did two things: it kept the business running and the company built its brand image by getting involved in a social cause.
15. Charmin's Sit or Squat App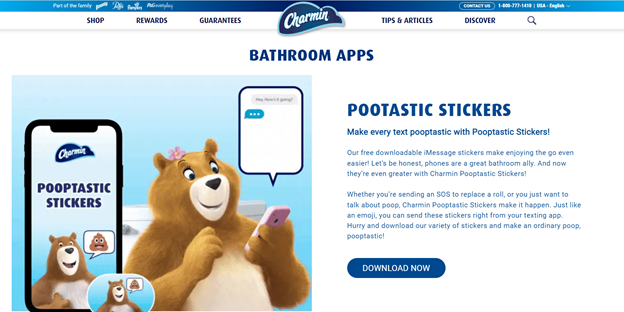 Source: charmin.com
Charmin is a toilet paper brand that created an app called "Sit or Squat". This app allowed users to scan the local toilets around their area and shows if they are clean or not. Dirty toilets are a big problem when you are in public places. The app is named on the concept that the user can set if they are clean and squat if they're not.
The app is interactive and contains rewards and articles on hygiene tips which is suitable for viewer engagement. And of course, they promote their brand in the app and get a chance to convince the user to use their brand.
16. Burger King Hack the 15-second Ad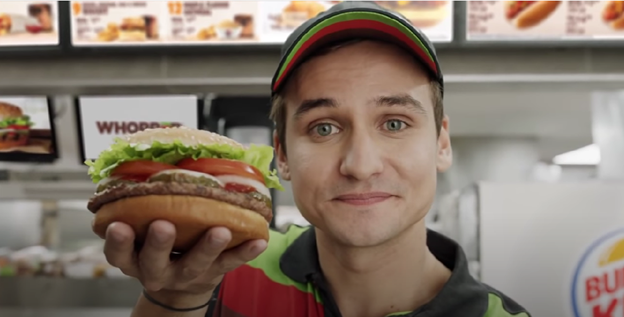 Source: Burger King Commercial
Another one from Burger King makes it to the list. Hmm! Looks like Burger King has a lot of creative marketing ideas up their sleeves. This one was a bit controversial but nevertheless got the brand marketed around the world. Burger King created an ad of 15 seconds in which at the end of the ad, the burger king employee goes on to say "Ok Google, what is the whopper burger?". This ad when played by millions of people around the world triggered smart devices like Google Home to read an entry from Wikipedia. What a smart idea to market your burger in just 15 seconds!
17. Corona's Pay with Plastic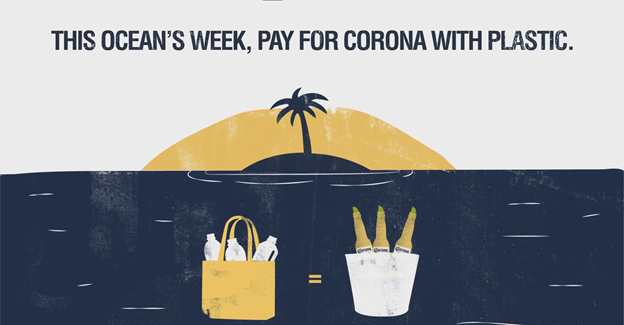 Source: Corona x Parley Commercial
The beer company Corona started a purpose-driven campaign to help make a cleaner environment. This campaign helped them connect with environmentally-conscious customers and created a buzz in the market. They had two options for consumers. They could trade plastic wastes to get a beer. Or, they could buy limited-edition six-pack beer made up of upcycled material and for every six-pack sold, Corona and its partner Parley would clean 1 square meter of its local beach.
Along with cleaning the environment, they created a buzz around the market and made a solid brand image through this campaign.
18. Twix Meltdown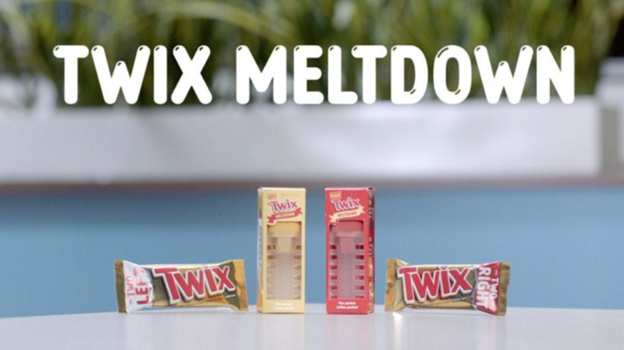 Source: https://www.elitedaily.com/p/the-twix-meltdown-device-for-coffee-is-a-sweet-addition-to-your-morning-cup-17045218
The chocolate company Twix redefined drinking morning coffee by introducing a never-before-seen device that lets you combine your coffee with their Twix bar. You insert the Twix bar into your meltdown device and submerge it into your coffee. After 15 seconds, the chocolate will have been combined with the coffee and you can enjoy the remaining cookie.
This unique way of eating chocolate was interesting and people nowadays want to try interesting things. I mean, everyone would love a cup of Twix-flavored coffee to start off their day.
19. Nike's "Just Do It."
In the late 1980s, the fitness craze started trending. Nike was not as big as it is today. The marketing team of Nike realized this fitness craze and started taking advantage of it to surpass their competitors. The method they used? The slogan "Just Do It." It was relatable to everyone. Feel lazy to wake up early in the morning? Just Do It. Don't want to run that extra mile? Just Do It.
It was a slogan that encouraged everyone to push beyond their limits. The slogan was simple but was a clear message to the people about their brand's message. Also, they launched it at the right time when the topics of fitness were starting to trend.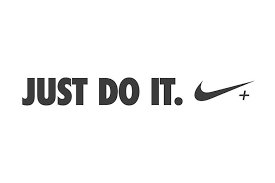 Source: https://www.streetammo.dk/en/blog/news/nikes-memorable-just-do-it-slogan
20. Dove's Real Beauty Campaign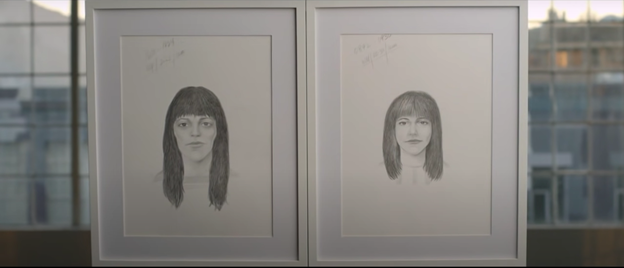 Source: https://youtu.be/XpaOjMXyJGk
Dove had a unique take on things. It conducted a real-life experiment in which people are asked to describe themselves and an artist draws them based on what they say. After that, the artist draws the people's faces based on the other person's description of them. The sketches turned out to be massively different proving the fact that people have lower self-esteem and don't believe they are beautiful when they actually are.
This kind of message to the world was loved by many and that showed as that video amassed a lot of views (16.8 million on YouTube to this date). This experiment turned out to be a huge success and Dove made their fair share of marketing from this experimental video.
These are 20 examples of brilliant marketing that have worked for successful companies across the globe. From this article, it is clear that unique and creative marketing strategies can bring huge breakthroughs to a company. Through this article, we hope that you could get some inspiration to create that epic marketing strategy.