Over the last 3 months, we had been searching for an online learning management system to host our business courses at affordable rates.
We came across multiple platforms during our hunt for a reliable course hosting provider but these platforms had their own policies and guidelines that made it impossible to sell our courses the way we wanted to.
Teachable felt like the perfect solution for us given that we wanted to host one course and have unlimited students join it.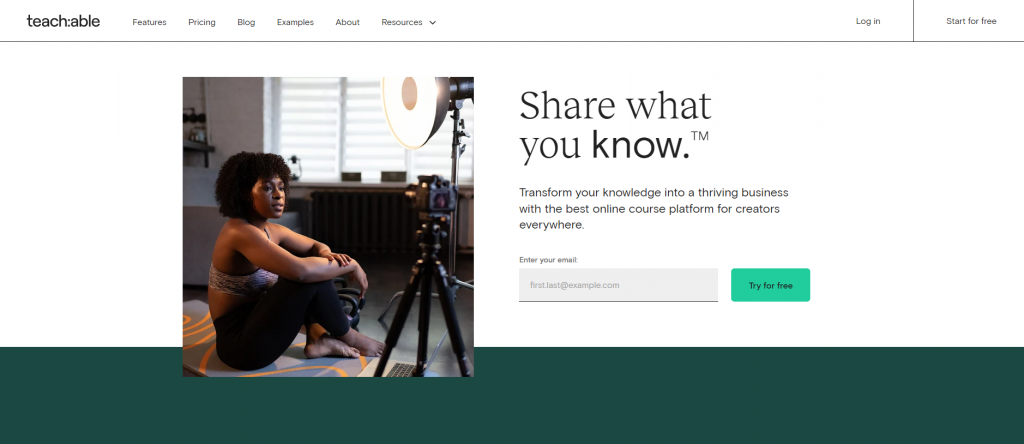 So, in this article, we've written down an honest review of what we thought about Teachable and why you might want to use it too! Learn how to host/sell your course on Teachable for FREE or get the premium experience for a very small monthly subscription fee.
What Is Teachable?
In simple words, Teachable is an online course creation platform. It allows course creators to create, market, and sell personalized, engaging courses and coaching services via their platform. It is an easy and profitable way to deliver your content to the targeted audience without worrying much about technical sides because of its jam-packed features.
The platform was founded in 2013 by Ankur Nagpal. Ankur was teaching a marketing course created by another course platform when he realized he could create something better. This led to the launching of Fedora (now called Teachable) which was more customizable and had a profitable paying system.
About 6000+ content creators are working actively in Teachable and It has around 10 million students across 125,000 courses with 12,000 paying customers on the platform. It has been one of the most profitable platforms for content creators.
You can quickly get your hands on the tools and features of Teachable by buying their monthly and annual subscription packages including the free, basic, pro, and business with consecutive addition of features.
Who Is Teachable For?
Teachable is for creators, entrepreneurs, and businesses of all sizes. It is for beginners, intermediates, and even experts.
Teachable is handy for beginners and intermediates because it takes care of getting your online course live, saving you the time that you would normally devote to selling, marketing, copywriting, coding, and other tasks.
Furthermore, if you want to create courses and manage them in a very organized manner, teachable covers every tool possible to create, manage, publish and cater to your content among potential customers and audiences.
Detail Overview Of Teachable
After you sign up, Teachable has very clear and clean instructions to start building a website for your business. You get a bunch of basic questions like the name of your school/business. Then you are provided with the interface that helps you to customize and improvise your school.
Here are different features that you can see once you get started with the platform:
a. Dashboard
This is the first screen you see after getting access to Teachable. The dashboard shows the main features you need to have in order to launch your business. The main features include signing up for a free live webinar covering how to create an online school and first course, how to use Teachable to accept payments, and how to create a beautiful school that matches the look and feel of your brand.
Also in the dashboard, you can view your revenue, earnings, course sales, signups, active students, lecture completions, and course completions by students. There are daily, weekly and monthly reports of all the activities happening in your school inside the platform.
b. Users
The user section is where you see the people associated with your business. This includes the students, leads, owners, authors, and affiliates of the course can be managed here in this section.
You can see more about your students and their progress in lectures in this section. There is a feature to filter while searching. The filters are:
The names or email addresses that do not include a specific word or domain
People who signed up before and after a specific event and who logged in before and after the event
Login counts that exceed a certain threshold
The country code
If a specific value is present in the contact source
If a contact used an affiliate code to sign up,
Who has enrolled or has not enrolled in a particular course (s)
This lets a content creator analyze and take knowledge-based decisions for further improvements.
c. Site
The site section lets you can organize your site's layout, add unique pages, and do other things. The site section provides you with the features like: domain, theme, navigation, bios, pages, texts, coupons, comments, code snippets, power editor to customize your site as per your wish.
Customizing your site is a powerful tool to appeal to and speak more about your school through the site alone. The easy-to-use features on the site are all you require to have a good setup to create content.
d. Sales
The sales section is for all the financial parts of your business. Sales include transactions, statements, breakdowns, and upsells.
You can view the purchase dates, prices of courses purchased, what you earned, student details, the course that was purchased, and more inside transactions. If you need to dig deeper into how and who made the transaction, you can look at statements. The Breakdown section contains an overview of sales by day and month. Upsells is focused on displaying a report of all completed upsells.
e. Emails
The email feature enables you to communicate with individuals, all course participants, or everyone at your school. Inside emails, you can compose, view the history, and edit templates with minimal coding knowledge.
The feature is very easy to use. You can compose by just writing to whom you intend to send the mail, the subject, and the content. History stores all the emails sent from the starting day. Emails addressed to authors, owners, and students are among them. You can also edit the templates with basic knowledge of HTML and CSS, it is provided with a preview option.
f. Settings
You can control which automated email notifications are sent to students via the Settings section. There are inviting toggle activation buttons that are enabled by default. Certificates of completion, comments, drip content, confirmation directions, upcoming subscription alerts, automated course canceled enrollment alerts, and free product invoices all have automated notifications.
There are general settings and settings for payment, taxes, notifications, plans, billings, integration, webhooks, roles, and beta programs. All general stuff like your school's name, address, landing page, and so on are included in general settings. The payment settings include a payment gateway which differs according to where you are based. The payment can be received via PayPal and Stripe and made through credit or debit cards, PayPal, Apple Pay, and Google Pay.
Teachable follows the tax rules of the country you are based in. You can get common notifications in the notification settings. You can pick your teachable plans in the Plan section and have your credit information in billing. There are also various integrations available like Facebook Pixel, ConvertKit, analytics service Segment, Google Analytics, Sumo, and MailChimp.You can build smart triggers in courses and also control access and privileges for everyone connected to your course through webhooks and roles respectively.
g. Courses
The awesome part of Teachable is being able to build courses easily. You can play around with the tools in the platform to make your course appealing and amazing using Teachable.
When you edit your course and sales page, update your course title, or assign a category to your course, the Information section serves as a general area. Pages contain your sales, checkout, and thank you pages. You will be able to edit, preview, publish, and unpublish pages, as well as capture links, duplicate, rename page titles, and rename page URLs. Each course is divided into sections into which you can insert lectures, resources, and quizzes. Lectures can also be duplicated, made available for download, made available as free previews, and published when ready.
You can set prices, drip your content as well add comments and have coupons to give your courses at reduced pricing as an offer. You can bundle your content in an attractive way to have maximum sales. Additionally, Teachable lets you make reports and give away certificates of completion to the students. So many features!!
h. Coaching
Coaching is a massive industry, and people are willing to pay for personal engagement with coaches in order to achieve better results. And for course creators looking to supplement their income, adding coaching as a supplement is a quick and easy solution.
First of all, you should name your coaching and decide on a client acquisition strategy. Secondly, select pricings and starting date, set milestones, and review before you go live. You are good to go now.
Teachable Pricing Plans
For all the features and profit teachable provides, it is one of the cheapest course creation platforms that exists today. You can view their pricing page here.
There are different plans available; free, basic, pro, and business. With limited but amazing features, you can use teachable for free. The basic plan starts from $29 per month, the pro plan starts from $99 per month and the business plan costs $249 per month. As the price increases, features get advanced and added.
Teachable Support
What if you get some problems or get stuck somewhere while running your business in Teachable? There is Teachable support for you. For the Professional and Business plans, Teachable's team is available via email and live chat, but only via email for the Basic plan.
TeachableU is an online course creation training school in Teachable. It includes a step-by-step guide for developing and selling online courses. To gain access to TeachableU, you must first consider upgrading to a paid Teachable plan.
Why Use Teachable?
Here are some pros of teachable listed below justifying the answer of why to use it!
Elegant design with advanced coding options
Capabilities for sales funnels
Extensive knowledge base
Tools for student engagement are available.
There is drip content available.
Email and live chat support are available.
Courses can be bundled and cross-sold.
Marketing instruments
100+ reports or analytics integrations with third-party apps
The blog feature is now available.
Available affiliate program
Provides a 14-day trial period with no credit card required.
Our Review of Teachable – 4.5/5 Stars
Having used Teachable for over 3 months now, Teachable gets a solid 4.5 out of 5 from us. The profits that content creators get through this platform are more than the other platform. The more justifiable reason for the rating is listed in the table below: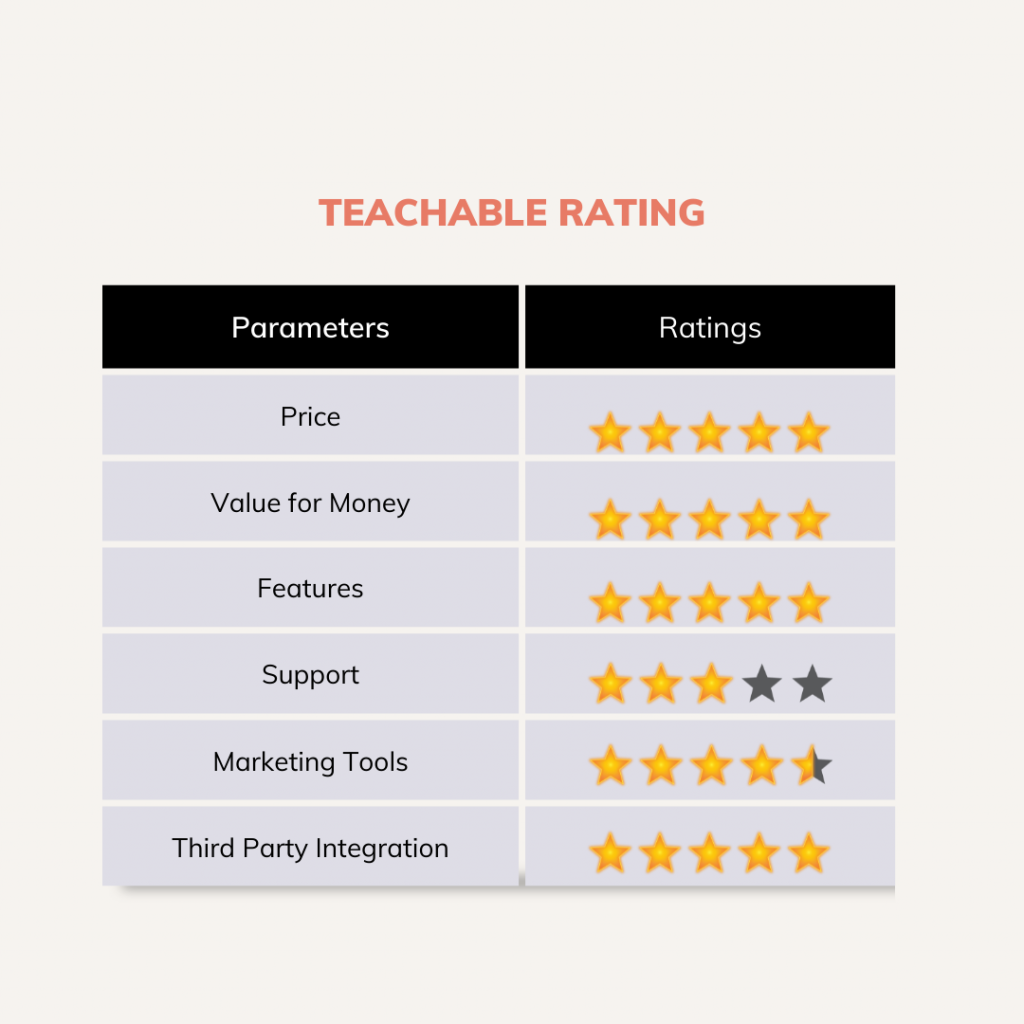 Provided these benefits, as well as many others mentioned above, it's worthwhile to try Teachable at least for 14 days. Remember that you don't need a credit card to use the platform, making it more accessible.