Pluralsight is providing a FREE WEEK offer and giving access to all of its 7000+ online courses, 40 interactive courses, and 20+ projects for this week only.
Click here to access Pluralsight's FREE WEEK!
The free week offer starts from October 10th to October 16th. Click here to access Pluralsight's FREE WEEK!
This brings an exciting week full of learning and building on your skills as much as you can handle.
What is Pluralsight?
Pluralsight is an online education platform that provides a variety of video training courses for software developers, IT administrators, and creative professionals with expert-curated paths.
Aaron Skonnard, Keith Brown, Fritz Onion, and Bill Williams founded the platform in 2004 as a classroom training company that sent an instructor to a business or training event. In 2007, the team focused on online video training. They expanded into enterprise subscriptions as the company started to grow.
Pluralsight has over 2000+ expert authors and 2250+ employees working together to bring the most fruitful courses and classes. Pluralsight is used by more than 70% of fortune 500 companies, and 18,000 business customers spread all over 180+ countries making it one of the most trusted and largest educational platform present in the world.
You can get access to the premium courses and interactive classes by buying their monthly and annual subscription plans. Inside the platform, you get paths with multiple courses, certifications, conferences, interactive classes from multiple trusted and authorized vendors, channels, guides, labs, and tests that are accessible on cross-platforms and devices.
Who Is Pluralsight For?
Pluralsight is for individuals, teams, and organizations specializing in technology. Specifically, individuals or groups that are seeking to upskill themselves and benchmark expertise across roles, speed up release cycles and build reliable, secure products.
But is it for a beginner? or somebody who is mid? Honestly, Pluralsight has it all covered up for beginners, intermediates, and even the advanced. If you are somebody who prefers a project-based learning approach and efficient learning, this platform caters to you.
Furthermore, if you are tired of searching for searching up professionals and have a hard time choosing one, the good thing is that Pluralsight has the best course videos for a single content selected for you which is highly handy for beginner-level enthusiasts.
Detail Overview of Pluralsight
Pluralsight has two major categories: Skill and Flow.
Skill focuses on helping the learners build better and relevant skills while Flow focuses on the analytics of team members and lets them compare the trends and analyze them.
Pluralsight has multiple features allowing you to learn at full potential.
a. Paths
Inside paths, you can choose different courses and vendors regarding different topics that are available like AI/ML, DevOps, Data, and many more. There are different skills that you can build here along an expert-curated path and get officially certified after getting hands-on with those skills. Additionally, there are live conferences happening here- how exciting is that!
b. Channels
You can create channels, make groups or join in other's channels that lets you form a team and work as a team effectively. The cool part is you can add multiple channels and share content as well as work on it together.
c. Mobile
Your location or the device you use is no longer capable to be an obstruction in your learning path. You can download the app and access it through your mobile phone.
d. Skill IQ
The skills that you have learned earlier can be measured here in this feature. You will get to know where you stand and what should be your focus in the next steps. This feature is quite handy for every individual and learner in teams. It is a kind of feedback about your journey on building the skill. You choose a skill that you want to measure, take an assessment where each of about 20 questions is time and get two chances to redo the assessment. After you take a test, your skills will be categorized into novice, emerging, average, above average, and expert based on the percentile you receive and it recommends a course to watch based on your results.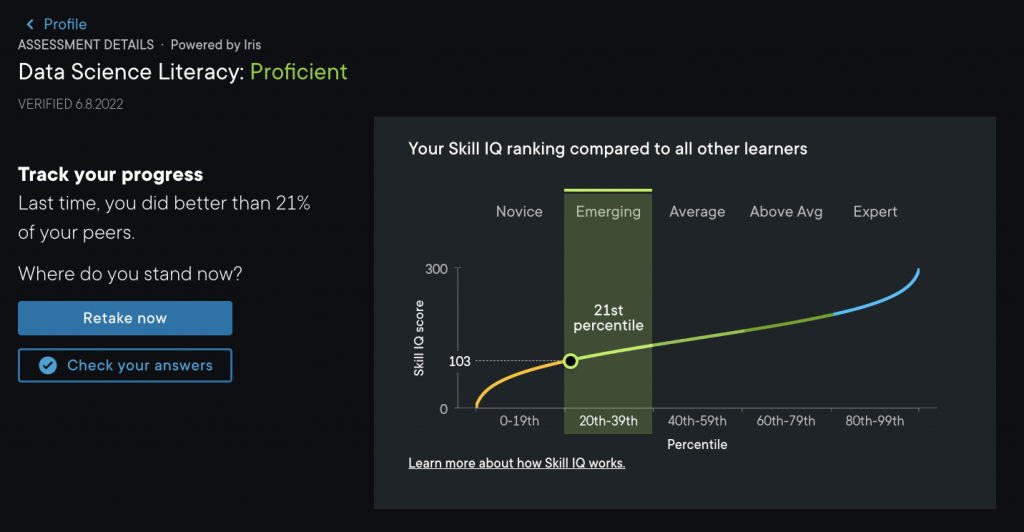 e. Guides
Guides are text-based articles that assist you in removing roadblocks and solving technical problems more quickly by providing reliable, just-in-time answers. There are illustrative articles helping you to get a grip of the concepts and sharpen your proficiency on the topics and clear your doubts.
Why use Pluralsight?
Here are some more reasons to why use Pluralsight:
a. Quality Content
The courses on this platform are multiple on-demand courses with tests and downloadable efficient resources. Some courses provides you with challenges for more practice. Unlike other popular platforms, only experts are allowed to create and upload content in the platform.
b. Learning Paths and Channels
There are curated content and learning paths designed by experts. Additionally, there are channels that let user create and customize the channels.
c. Certification
Once you complete the video course, you are given with a downloadable certificate by Pluralsight. Though the certifications are not accredited, you can use to get industrially certified.
d. Simple to use
Pluralsight is pretty straightforward to use. With clear UI and readable instructions, anyone can use it without any problems. You can also get personalized recommendations after customizing the roles in the platform.
e. Pluralsight Community
There is a dedicated community for different courses. The discussions and the forums in the course provide a better chance to clear the doubts and discuss the highlights as well as keynotes.
Our Review Of Pluralsight: 4.8/5 Stars
After using Pluralsight for over 3 months now, we give it a solid 4.8/5 stars for being the ideal learning solution for closing skill gaps in areas such as cloud computing, machine learning, programming, game design, and computer graphics.
It provides value for our time and money. Multiple features and courses ease the experience of users on the platform making learning a real-world skill in an efficient manner. It is definitely beginner-friendly and has a great feedback system for our input in learning the skill. Pluralsight is definitely worth our time and commitment as per the experience of our team.
Click here to access Pluralsight's FREE WEEK!