As much as we appreciate new guest posts from a diversified range of authors, sticking to a standardized structure helps our readers easily absorb our articles.
Therefore, this guideline is created to help our readers find familiarity in the content writing structure between our guest posts and our regular posts.
Why Guest Posting On Towards Business?
Towards Business caters its content to one primary audience: first-time founders. You may want to submit a guest post to Towards Business if:
You are a startup enthusiast and want to share your knowledge to other founders.
You know of/have a product that is helpful for first-time founders.
You want to connect with like-minded founders through your writing.
By guest posting on Towards Business, you will receive the following benefits:
1 Dofollow link per guest post.
Author bio and link to one social media profile per guest post.
Reach 10,000+ views per guest post.
Towards Business Guest Posting Guidelines
The following section covers the best practices to follow when writing content and submitting it as a guest post to Towards Business.
Note that this guideline makes references to the WordPress editor since we primarily use it for posting our blogs. However, the details included in the guideline can be mimicked to other word processors such as Google Docs, MS Word, Dropbox Paper, etc.
General Article Layout
Each article should contain the following layout: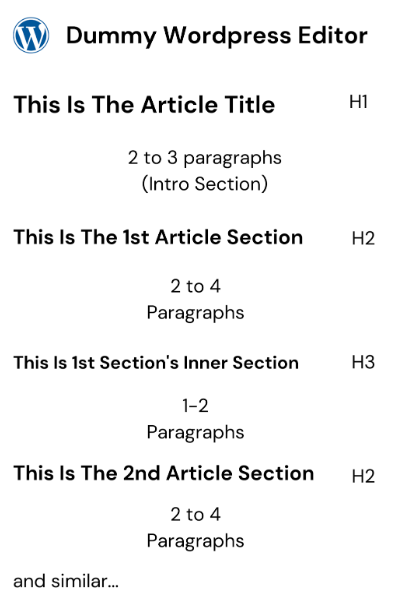 If you are using a word processor such as Google Docs or MS Word, please make use of the following font sizes for headings and paragraphs:
Heading 1 (H1): 18 px and bold
Heading 2 (H2): 16 px and bold
Heading 3 (H3): 14 px and bold
Heading 4 (H4): 12 px and bold
Paragraph (p): 11 px
Also, you can include images as per your needs in the article. However, if the included images are subjected to copyright violations, the design team at Towards Business team will create a new graphic for your guest post accordingly.
Here's a sample article that uses the above-mentioned format: Social Media Marketing 101 For Your Business.
Content Writing Guideline
The following points demonstrate best practices for writing your content on Towards Business:
Article length should be above 1500 words.
The Intro Section should be fun and intriguing at the same time.
All writeups should make use of the heading tags to properly compartmentalize the article. The use of proper headings allows search engines to understand the depth of the structure of the article as well as for readers to understand the sub-topic they are reading at any given moment.

H1 – The article title. For example, "Growth Hacking as a Startup"
H2 – The article section. For example, "What are Growth Hacks?"
H3 – The inner section of an article section. Use this when you want to explain multiple points in detail for a section.
H4 – Use as few as possible since the depth of the article section shouldn't be usually this deep. You may want to restructure your article to have another H2 section instead.


If there are multiple points that each needs a single sentence explanation, use numbered lists or bullet points. Note: If the points need a detailed explanation, use H3 headings instead.
All paragraphs should consist of 5 lines at most.
Use hyperlinks to link to only credible sources. For example, sites like Wikipedia should not be linked to since they are controlled by the public and their content is changed often. On the other hand, Forbes is a credible website to link to.
Give catchy names to your headings and sub-headings to add flare to your writing. For example, rather than writing "How to build a business", you can make use of phrases like "The king kong technique to build your business fast".
Listicles or step-based articles should use H2 headings with the following format: "1. Do this step / This is list number 1 item". Writing formats like "Step-1: abc" or "1 – abc" is less pleasing to the eye and should be avoided as far as possible.
Use title case for all headings. For example: "How to build a business?" should be written as "How To Build A Business?".
Submit A Guest Post
If you want to submit a guest post to Towards Business, please send us your article adhering to the above-stated guidelines at [email protected].
If you have any questions, please write to us in the comments and we will answer your queries accordingly. We hope the guideline was helpful!