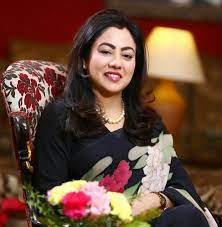 Bhawani Rana: Personal Details
| | |
| --- | --- |
| Full Name: | Bhawani Rana |
| Profession: | Entrepreneur, Director of Hotel Sneha, Chairperson of Sneha Group |
| Date of birth: | September 2, 1969 |
| Nationality: | Nepalese |
| Net worth: | Not Found |
| Height: | Not Found |
| Religion: | Hinduism |
| Parents | Manmohan Mishra(Father) |
| LinkedIn: | Not Found |
| Facebook: | https://www.facebook.com/Bhawani.Rana2016 |
| Twitter: | Not Found |
Bhawani Rana: Biography
Rana despite being one of the top business officials of the country at the current time, did not belong to a business family. She grew up in a supportive and politically aware family.
Earlier she was involved in the garment industry but suffered a great loss. Her optimism and learnings from her failures led to her opening a new venture Hotel Sneha in Nepalgunj. She has an entrepreneurial and loving husband. The hotel started with 10 rooms but now has grown into a large 65-room four-star hotel.
She has handled big responsibilities as an executive member of FNCCI, member of SCWEC (SAARC Chamber Women Entrepreneur Council), chairman of Fortuna Group, promoter of Capital Merchant Banking and Finance Ltd, vice-president of SAATHI, director of National Life Insurance Co. Ltd and advisor to Nepal Journalist Tourism Association, Mid/Far West Nepal.
Bhawani Rana: Husband
Rana married Ashit Sumsher Rana, whom she had met in Nepalgunj who is also a businessman and involved in Sneha Group.
Bhawani Rana: Education
Rana completed her school education at St. Mary's school. She did her undergraduate at Isabella Thoburn College in Lucknow, India, and attained a degree in political science from Lucknow University, India.