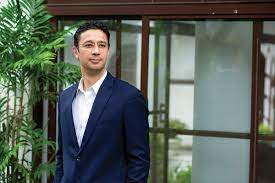 Ajit Bikram Shah: Personal Details
Ajit Bikram Shah: Biography
Shah got his high school education in Nepal in St. Xavier's School. After that, he went abroad for his bachelor's degree. He went to the USA in hopes of getting enrolled in a medical school. But, that plan of his changed quickly as he realized it would take 15 years for him to become a doctor. He worked in a company called Seamonds, a full-service public relations and marketing communications agency for three years before returning back to Nepal.
He was briefly the CEO of his own IT company. Later, he got involved in his family's business. His family owned company "Lotus Holdings" used to invest in real estate, housing and carpets. However, Shah took the company to a new level by exploring the field of business process outsourcing (BPO). The company has been providing BPO services to international customers in US, UK, Europe, Thailand, Singapore and other nations. The major clients of his company include TATA , Target, Big C and Family Dollar.
Currently he is involved in different organizations.
Ajit Bikram Shah: Education
Shah gained his high school education from St. Xavier's College. He completed his undergraduate degree from the University of Minnesota majoring in maths and chamistry. He also got executive education in the President's Program of Harvard Business School.
Ajit Bikram Shah: Ventures
Shah has been involved mostly as the board member of different organizations and companies like:
Young Presidents Organization
FlexTecs – Flexible Technology Solutions LLC
Flexible Insights Thailand
Ministry of Commerce – Government of Nepal
Cheers Pvt Ltd
The British School, Kathmandu
There are many other organizations which can be addd to this list.